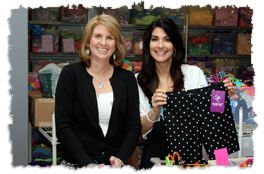 We founded B-Skinz in 2007 when it was apparent that there was a need for everyday athletic wear that would add fashion to function for girls/women playing sports. Our journey began with spandex undershorts for females in every pattern imaginable!
While we covered the girls market with compression shorts there was a loud calling for a product for active moms/women that could transition to other activities throughout their day.
When we introduced our skorts for everyday/tennis and golf for women we never dreamed it would grow to where we are today! B-Skinz ships worldwide and we are very proud of our presence in many retail establishments nationwide.
Women are participating in golf, tennis, pickleball and many other sports that require activewear that is beautiful, comfortable and highly functional. We provide an extensive library of patterns and solids for our skorts that add excitement and versatility to any woman's wardrobe. B-Skinz travel very easily and are virtually maintenance free! There is no wrinkling and they fold up into a weekender bag effortlessly.
Our products are manufactured here in the U.S.A. and therefore can be customized to meet your length requirements. Being a made in the USA company is very important to us in today's competitive environment.  Special attention is paid to every detail of our manufacturing process which is closely monitored for quality.
As we said in 2007..... Be Active, Be You!
Carolyn & Stacy
We'd love to hear from you!
Mailing Address
B-Skinz
712 Main Street
Boonton, New Jersey 07005
United States
Telephone Numbers
Showroom: (973) 452-4589
Fax: (973) 541-2542
Email
sales@bskinz.com